Summary
This week we meet a young Wilde, Grizz, Azus, and Amidus! Wilde wants a pretty dress, Grizz is the sensible one, Azus has a simple solution, and Amidus wants to expose the lie.
Synopsis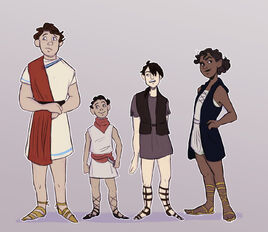 ** Please resize/reposition images after adding synopsis. **
Quotes
Bryn, in an extremely deep voice while introducing his character: My name is Maximus Decimus Meridius, Commander of the Armies of the North, loyal servant to the true emperor, Marcus Aurelius. Husband to a murdered wife, father to a murdered son. And I will have my vengeance, in this life or the next.
--
Azus: Can I go on a quest instead of Amidus?
Grizz: Only if you give me back my letter!
Azus: I don't have your letter!
Grizz: You steal everything!
Azus: I don't steal nothing!
Grizz: Where's my letter?
Azus: I've never stolen nothing!
--
Amidus: Morality is a bourgeois lie.
Azus: You're a bourgeois lie.
Amidus: Your mum's a bourgeois lie.
Wilde: So's your face!
Dice rolls & mechanics
Combat breakdown
Plot Notes
Community content is available under
CC-BY-SA
unless otherwise noted.