Welcome to the Rusty Quill Gaming Wiki
A wiki accompaniment to the amazing Rusty Quill Gaming Podcast. If you would like to hang out and chat with other fans, check out the Rusty Quill Discord or r/RustyQuill!
There are very few pages on this wiki that are spoiler free, so proceed with caution if you aren't caught up. Some spoilers are blocked out on desktop, but if you hover over it, you can see the spoiler. This is still an ongoing process.
This page is currently trying to catch up to the last two seasons. If you have a favourite episode/character, feel free to add some info or edit what we have. Any help is completely welcome and very much appreciated. Take a look at the Community Corner for a list of current tasks and basic guidelines.
Transcripts Available
The wonderful Tea over on Discord is in the process of transcribing the show! Find the current list of available episodes over on Google Drive.
About Rusty Quill Gaming
The Rusty Quill Gaming Podcast is an Actual Play Pathfinder RPG show from UK-based entertainment company, Rusty Quill. GM Alex Newall runs a mixed group of comedians, writers and improvisers through his tabletop campaign, Erasing the Line, using his homebrew version of our world with alternate history galore. The full open-source pathfinder system can be found at d20pfsrd.
Latest activity
Photos and videos are a great way to add visuals to your wiki. Find videos about your topic by exploring Fandom's Video Library.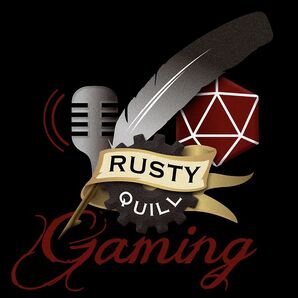 Community content is available under
CC-BY-SA
unless otherwise noted.